Navigating the Intracoastal Waterway
I-26 traffic got you down? Before you start planning your next trip to Beaufort, the Outer Banks, or even Key West– consider putting your car in the garage + setting sail via the Intracoastal Waterway.
Also known as 'America's oldest highway,' 'ICW,' or 'The Ditch,' this series of bays, lagoons, rivers, + canals acts as a highway for traveling boaters looking to escape busy roads + seas the day by watercraft.
As a protected inland route– it provides a safe, navigable journey along the Atlantic + the Gulf of Mexico, without the hazards of traveling long distances across the open seas. And it certainly wasn't created by accident– hello commercialization.
A history
After the Revolutionary War, came a canal era (early 1800s)– where states such as New York, Pennsylvania, Virginia, + North Carolina began to build canals as both a means of travel and in order to move goods swimmingly from one city to another.
Fast forward to 1909, when Congress passed the Rivers and Harbors Act– authorizing the US Army Corps of Engineers to complete surveys for an Intracoastal waterway system. Shortly thereafter, in 1912, the Corps submitted a report to Congress for an Intracoastal Waterway extending from Boston, MA to Beaufort, NC. The plan included the Albemarle & Chesapeake Canal, which already connected Virginia + North Carolina.
The proposal was approved, and in 1913 the Corps submitted a second proposal to extend the Intracoastal waterway from Beaufort, North Carolina, to Key West, Florida– with a route directly through the Lowcountry.
And the rest was lost at sea… just kidding.
Today, the ICW is broken up into three sections, with the Atlantic Intracoastal Waterway (AIWW) running right along the Charleston coast. It is now a national, non-profit organization (established in 1999), however; the US Army Corps of Engineers is still responsible for maintaining the waterway.
Connecting the markers
Extending for 203 miles with an average depth of ~10 feet, the South Carolina portion of the waterway flows through Isle of Palms, Mount Pleasant, and directly passes through the Charleston Harbor– having officially entered Charleston at Mile Marker 469, at the Robert B. Scarborough Bridge (a.k.a. the James Island Connector).
Insider tip: The bridge has a clearance of 67' for boats, which is the highest of any bridge along the waterway– for the time being. (A bridge along the ongoing Carolina Bays Parkway expansion could be completed by the fall of this year. Its height would be 86 feet).  
After tugging to, or from the Palmetto State– be sure to stop at all of the best ports along the AIWW, including:
Norfolk, VA,

Mile Marker 0

Elizabeth City, NC,

Mile Marker 50

Beaufort, NC,

Mile Marker 203

Wilmington, NC,

13 miles north of

Mile Marker 297

Savannah, GA,

8 miles west of

Mile Marker 576

Fernandina Beach, FL,

Mile Marker 715

Vero Beach, FL,

Mile Marker 952

Miami, FL,

Mile Marker 1089

Key West, FL,

Mile Marker 1243
How to cruise
While the AIWW boasts commercial activity– including barges hauling petroleum, building materials, + other goods– it is more extensively used for recreational boaters. Here are a couple of ways the waters are enjoyed:
🛥 If you happen to be a captain of a ship (or aspire to become one after reading this fascinating article), you can obtain nautical charts + coastal expedition maps to help you safely plan your own excursion.
🛳 Don't have a yacht? Me neither. You can rent a boat, or explore the waterway in luxury on a cruise. Local Captains, such as Captain Dan, offer 2-4 hour tours of the Lowcountry waterways. While larger companies, such as American Cruise Lines, offer eight-day cruises from Charleston to Jacksonville, FL– stopping at the Intracoastal Waterway ports of call along the way.
🐟 Made up of natural freshwater inlets, saltwater rivers, bays, + canals, the AICW has some of the best fishing the Lowcountry has to offer– with hundreds of spots to fish for everything from catfish, to baitfish, to shrimp, to sharks. Just make sure you have the proper fishing license to cast your line.
🏡 If spending days on the water doesn't float your boat, you can still enjoy the benefits of having the AICW right in your backyard– literally. Intracoastal Waterway real estate has its own unique search criteria, on websites such as Zillow.com, and is growing in popularity with homebuyers who want to appreciate the natural beauty of the waterway from the shore.
Personally, it's a bucket list goal of mine to travel the coast on a small boat with my dog in tow.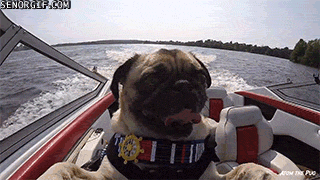 Pug tug boat | .gif by giphy
For anyone taking to the seas– it's import to map your route, make note of fuel docks + grocery stores, and beware of bridge heights.
But once you've got a solid plan– grab your best mate + set sail.  
– Justine