Hey Charleston friends, Vagney here. 👋 When's the last time you did something for the first time? Here's your chance.

Due to the COVID-19 pandemic, the nonprofit South Carolina State Fair will host its first-ever free, drive-thru SC State Fair on Tues., Oct. 20 and Wed., Oct. 21. in Columbia. 🎡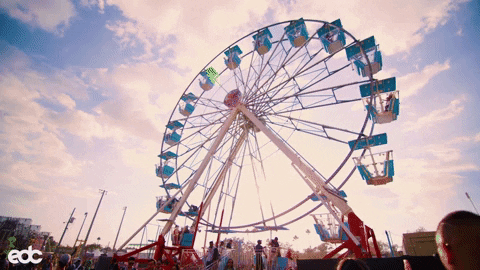 Some details are still being worked out, but here's what we know so far:

Guests will be granted free admission to drive through the fairgrounds and experience car-friendly attractions that highlight the state's agriculture, history, arts + culture — all from the comfort and safety of their cars. Drive-thru attractions are still being planned.

Guests will also be able to drive into the Lexington Medical Center Fair Park on the fairgrounds and purchase their favorite fair foods. We're assuming cotton candy + anything fried to delicious goodness. 🍭
But, rides won't be on the menu this year. The organization is planning a creative, family-friendly way to experience the food, exhibits, crafts + animals. 🎉

Click the button below for a glimpse of the exhibits + opportunities to reminisce on fairs past.
Maybe this is our new normal? Regardless, we're glad the State Fair is still happening, even if we experience it from our cars. 🚗
| | | |
| --- | --- | --- |
|   | Do you plan on going to the drive-thru SC State Fair this year? |   |
 

| | |
| --- | --- |
| | Maybe, haven't decided yet. |

 
Coronavirus
○ On Wednesday, DHEC announced 1,666 new cases of coronavirus and 48 additional deaths in SC. That brings the total number of cases in SC of COVID-19 to 85,423, and the total deaths to 1,551. Visit SCDHEC's website for full coronavirus data + stats.

○ In a press conference yesterday afternoon, Gov. Henry McMaster announced that, starting Mon., Aug. 3, the guidelines previously recommended for restaurants + other establishments attracting groups of people are now mandatory. A list of the now mandatory guidelines can be found here.

○ In addition, Gov. McMaster also mandated that face coverings must be worn in all state government buildings beginning Aug. 5.

○ The Governor also will allow businesses, facilities, venues, events, and mass gatherings to open on Aug. 3, with restrictions, including theaters, stadiums, amphitheaters, gymnasiums, and more. To view the guidelines + restrictions for each type of facility, click here.

○ Yesterday afternoon, the ACC announced new guidelines for fall sports. Teams will be able to start their seasons the week of September 7. Conference schools will play 11 football games – 10 against ACC opponents + one non-conference game. The non-conference game must be played in the ACC school's home state and opponents must meet predetermined medical requirements. Read more here. (WSPA)

○ Research for a possible COVID-19 antibody treatment has entered phase two at the Medical University of South Carolina. Participants will either receive a placebo treatment or antibody treatment, which will indicate whether or not an infusion of antibodies may help someone recover from COVID-19. (WCSC)

○ As positive COVID-19 cases + rate of infection in the Lowcountry have decreased within the past month, City of Charleston officials are speculating that the July 1 mask law may have influenced this trend. Senior adviser to the mayor Tracy McKee urges people in Charleston to continue obeying this law + curb mask fatigue. (WCSC)
Hey, there. Looking for today's #MustDo events? In accordance with the CDC's recommendations regarding public gatherings, we have decided to postpone public event coverage for the time being. We look forward to bringing you Charleston's #MustDo events soon (until then, feel free to submit your virtual events here).
#CHStoday
Check out this shot of four-year-old Max posing in front of a West Ashley mural of legendary chef Anthony Bourdain. The mural reads "Enjoy the Ride," and boy, are we on the rollercoaster right now.

However, if there's one thing we can count on during the current pandemic that we're living through, it's food. And lucky for us, we're in the heart of foodie-central. Could there be a more fitting place to commemorate such an influential person?

Be sure to take some time this week to enjoy the ride, friends.
#DYK that your photo could be featured in our newsletter? Just use #CHStoday on social media.
News Notes
Weather
○ 88º | Scattered thunderstorms | 60% chance of rain

Tide
○ Low: 4:28 a.m. + 5:36 p.m.
○ High: 10:58 a.m. + 11:53 p.m.

Civic
○ The City of Charleston's annual "Operation Move-out" trash pick up initiative will begin at 8 a.m. today and be conducted through 5 p.m. on Sat., Aug. 1. During this time, tenants are asked to place trash items at the curb by 7 a.m. for same-day pickup.

Asked
○ Reader Michael G. wants to know if there are "any organizations collecting donated computers to help kids with going back to school in the fall in the in-person/at-home environment." Know of any organizations that can help? Let us know by replying to this email.

Cause
○ Charleston RiverDogs are teaming up with The Blood Connection to host a blood drive Sun., Aug. 2 from 12-5 p.m. at Joseph P. Riley Park (360 Fishburne Street). Donors will receive a $10 Visa gift card, as well as the option to have free COVID-19 antibody testing with the blood donation. Register here.

Art
○ Heart of Gold Gallery (414 Whilden St. #101, Mount Pleasant) is hosting a virtual fine art photography show featuring its "Sun and Surf" collection now-Sept. 7. The new collection features a curated selection of fine art photography from emerging artist Nico Guils and established photographers Mike Coots, Anne Menke + more. View collection here.
○ Beginning in August, The City of North Charleston's Cultural Arts Department will present the monthly art exhibitions originally scheduled for the North Charleston City Gallery at the new Park Circle Gallery (4820 Jenkins Ave.) due to adjustments made as a result of the COVID-19 pandemic. Gallery hours are Tues.-Fri., 10 a.m.-6 p.m., and Sat., 12-4 p.m. Admission is free.

Dish
○ Pink Cactus (100 A Spring St.), is partnering with Holy City Hogs to offer a special four-course tasting experience on Aug. 4 at 7 p.m., featuring both businesses' products + cooking techniques. The event, which will take place at Pink Cactus' outdoor patio, includes drink pairings with each course. Tickets here.
○ Hamby Catering is providing a new + safe way to celebrate special moments with curated micro-events menus, made for gatherings of 10-50 people. Fully staffed micro-events and disposable glassware are provided to limit the use of shared utensils so that the community can reconnect while limiting the spread of coronavirus. The menus feature dishes including 6-Hour Red Wine Braised Boneless Short Ribs and Slow-Roasted Carolina Pulled Pork BBQ. For more information, email the Hamby team.

Virtual
○ This year marks the 30th anniversary of signing the Americans with Disabilities Act into law. In honor of #ADA30, the Able South Carolina hosted a virtual Disability Pride Arts Showcase on Tuesday night highlighting 15 artists from SC and across the US. Did you miss it? Don't worry – you can catch it here.

Trending
○ Ed Helms + Randall Park are hosting NBC's new primetime series, "True Story" – a show featuring a mixture of comedy and outrageous, real-life stories. City Media Entertainment's casting team is now accepting applications to be featured on the show. Apply here. (WCBD)
#Health
Tired of restrictive fad diets with no long-term results? Noom's innovative health program – which combines personal coaching with cognitive behavioral therapy and artificial intelligence – is bigger than a diet; it's a new outlook on health.

Using their convenient app + personal coaching, Noom helps you create your own unique health program with the power of habit, setting you up for long-term weight loss and improved health. Ⓟ
#Shareworthy
The Wrap
ICYMI: It's time to gear up to go back to school – or something like it. We are working on putting together a guide to navigating the "new normal" when it comes to in-person, at-home + virtual learning, and are looking to the community to help us. If you have any questions, tips or tricks for going back to school in the fall, let us know here.

🔄 Catch up on any newsletters you may have missed here.

💭 Say Hello: What do you want to know about your city?

✏️️ Want to write an article for us? Find out how here.

👀 Want your business featured in our newsletter? Learn more about advertising opportunities here.
Did a friend forward this to you?
It can be in your inbox tomorrow a.m.
| | | |
| --- | --- | --- |
| @CHStoday | Follow us. | #CHStoday |
Let us know if we've missed anything and say

[email protected]
Disclaimer: Content marked with a
Ⓟ
is representative of our advertising partners.
Want to receive CHStoday once a week instead? Update your preferences here.
Never want to hear from us again? Break our hearts by unsubscribing here.
Copyright © 6AM City, LLC, all rights reserved. Legal.
Greenville, SC 29602