What do bucket hats, dad jokes, and local trivia have in common? Pedicabs. This week our city editor Mia hopped on a ride to give you the scoop on everything you need to know about Charleston's unique taxi system.
Where can I get on one?
These biker babes and dudes ride all around the peninsula and are most frequent near the City Market or King Street. The farthest they will ride past is Huger Street and they will ride the full width of the peninsula from each of end Calhoun St.
If you can't flag one down you can call their phone numbers. For phone numbers of each company click on their website links listed below. Pro Tip: Most hotels will have drivers out front or can flag one down for you.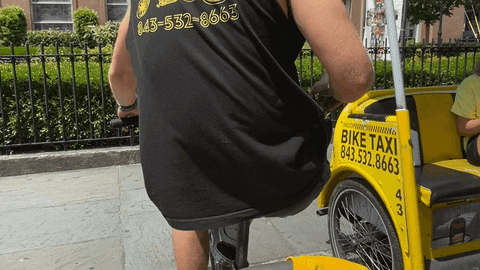 When are rides available?
Rides are open anytime from 9 a.m. to 11:30 p.m. all week. On Friday and Saturday nights they will run later until bars close around 2 a.m.
Are certain times better than others?
The most popular times for riders are Friday and Saturday nights. Sunday mornings are also a busy time, with people rushing to brunch reservations.
As warm weather and wedding season gear up, April, May, and June seem to be the busy season, according to my driver, McHenry.
How much is it?
Pricing is $8 per passenger for 10 minutes if there are two or more people. When there is one passenger it is $12 per 10 minutes. Make sure to take care of your cyclists cough cough tips are appreciated.
Bonus: pricing is the same across the board between companies.
Why are there different colored bike taxis?
Charleston hosts three different pedicab companies that work together to give visitors + locals a great experience.